Tiny Treasures, Red Leaves and Lucky Pennies
https://jasonstadtlander.com/wp-content/uploads/2014/09/red-leaf-from-children.jpg
2560
1440
Jason Stadtlander
https://secure.gravatar.com/avatar/005a188b0f881a33cb85960dca72b8e2?s=96&d=mm&r=g
Arriving at my children's school, I get out of my car and my children follow suit, grab their backpacks and we walk toward the door. Along the way my youngest sees a few autumn leaves on the ground, despite the fact that it's only one day after labor day.
He reaches down and finds the two most red, beautiful leaves and hands one to me. This is a very common practice with him. I smile at him and he trots off toward the door, holding my cell phone that he is talking to his grandfather 800 miles away on. Another common practice, our morning call to my father and something that brings a smile to their face and gets my father's day off to a wonderful start.
We go into the school and I check them in for early drop-off, give them each a hug and as I'm leaving, my son walks over and hands me his red leaf.
"Why did you give that to me? You already gave me the other red leaf." I say
To which he replies, "Two red leaves are better than one." and he runs over to the Lego bin.
I suppose one can't argue with that logic. So, I take my extra leaf and go to the car, sit down and place the two red leaves next to the four other leaves he's given me over the past few weeks and the three lucky pennies he has given me. I take a moment to examine them. All six leaves and three pennies, one of which is a hay penny. My other son doesn't tend to find 'trash to treasure gifts', he usually colors me creative pictures or makes me a sculpture, but these bits from either boy are more valuable than all the money in the world. Little treasures for a child, big treasures for a parent (at least this parent).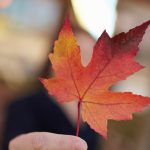 As an adult we spend day in and day out, seeking the dollar, chasing the sun and trying find that perfect peace, that perfect moment. As a parent, I find those perfect peaceful times and perfect moments are all around me, mind you not as often as I'd like, but they are there. Even as I sit here at my desk writing this article, I see 8 photographs of my children and at least 7 pieces of artwork, sculptures, sock snowmen, rock men and pine cone people all around me. Hidden where no one can see, I keep my old leaves from years past and my lucky pennies. My "tiny treasures".
Strangely, these items mean something to me and I'm sure my father and mother kept the same sort of things and their parents before them. I will admit to having held on to a tiny treasure or two, beyond their, um… expiration date. A berry that rotted, a walnut that may have had something in it that it shouldn't have. It doesn't change the fact however, that they were my tiny treasures.
What happens when these people who have these objects are no longer around? The objects get put back into world circulation, are thrown away into a landfill or are sold for some derived value.
What is interesting though, is that all of us are a part of these treasures, we are all connected to them. That penny in your pocket, very well may have been the lucky penny that a child gave to their mother. The same penny that ended up sitting on her dresser for years for no other reason than because her daughter gave it to her.
It is these tiny treasures, these small, seemingly insignificant items that make our daily treks all worthwhile.
What are your tiny treasures?