Farm Fresh Mexican for Cinco De Mayo at Vida Cantina in Portsmouth, NH
https://jasonstadtlander.com/wp-content/uploads/2016/05/mexican-food.jpg
1833
2091
Jason Stadtlander
https://secure.gravatar.com/avatar/005a188b0f881a33cb85960dca72b8e2?s=96&d=mm&r=g
The key difference that you will notice in any farm to table restaurant when compared to more traditional restaurant fare is the freshness. I never would have imagined that I could actually tell the difference between fresh food from a farm and food from a distributor — at least not until I began seeking out dining locations for my Farm to Table series.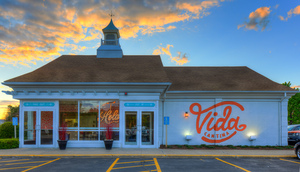 Driving down from Kittery, ME where I frequent the outlet malls, I often prefer to take the more scenic Route 1, which wiggles its way down through Maine, New Hampshire and eventually leads down to the North Shore of Boston where I live. One evening not long ago, on one of my drives down I was looking for a margarita to end my weekend with and stumbled upon Vida Cantina on the right hand side of the southbound road. Pulling in and walking through the door, I was immediately enraptured with warm pleasant aromas of the tacos, enchiladas and fresh meat that was grilling. Despite these amazing aromas, I was on a mission to find a good margarita, and a good margarita I did find. With the freshest squeezed key limes and splash of tequila and a tinge of salt, the drink was nothing short of amazing. It was at that point that I actually took a moment to take in my surroundings.
If you've ever wondered what it was like to sit down in the home of a Mexican family, then Vida Cantina on is definitely the place to go. Chef David Vargas explains that "…its those traditional flavors and the fresh ingredients combined in a modern technique that continues to drive Vida Cantina." He went on to explain that traditional Mexican food gets its authentic taste from the freshest ingredients which is what really inspired the Farm to Table concept within the establishment. No one knows authentic Mexican food like Vargas, who grew up in an American-Mexican home with parents from the Guadalajara and Jalisco area. Cooking was a passion in the home as was the 'family' element to the meal. He further went on to receive professional culinary education from Le Cordon Bleu College of Culinary Arts.
Vargas explains that "Vida Cantina tries to step away from the norm that many Americans might perceive as Mexican food…" something that I feel provides a more authentic and vibrant Mexican experience. You won't find the traditional burritos and quesadillas that you might see at other 'Mexican' restaurants. Instead you will find mouthwatering dishes such as the NH Mushroom "Chorizo" Tacos, grounded in fresh ingredients from start to finish. Vida Cantina has even made arrangements with local Tuckaway Farm in Lee, NH to provide them with fresh Indian corn. "I decided last year that this year we would start making our tortillas for our tacos completely from scratch. I showed my staff how to hand mill the corn into flour to make all homemade ingredients for our tortillas that we use for our tacos." Vargas states. "I will admit that I got an interesting look from my staff when I proposed that we would be hand grinding 60 pounds of corn."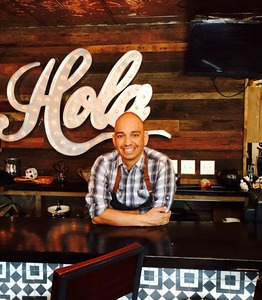 Owner and Chef: David Vargas
Not only has Vida Cantina made a strong effort to mold their growers and suppliers to provide the perfect ingredients, they put the same effort into their staff training. "We do get some pushback here and there, when people come into a Mexican restaurant and they expect a more traditional style, what they come to expect with burritos and such. Our servers are very well educated and they basically tell the story of what we're doing here and why do it on a daily basis." says Vargas. "We intentionally don't offer burritos so that we can change their perception – steer people away from that image when they sit down at a Mexican restaurant and see at the same time all the farms that we are promoting and what we are doing with the fresh ingredients."
Here are some of the other farms they work with:
Breezy Hill Farm – South Berwick, Maine – providing meat
PT Farm – North Haverhill, NH – providing meat
One other benefit that Vargas enjoys implementing into his seacoast restaurant, is the proximity to fresh fish. Vida Cantina belongs to a local fish cooperative that they pay into and then every Friday local fisherman provide whatever fresh catch they happen to get that day.
You can't get fresher ingredients in your food than a farm to table restaurant like Vida Cantina and the effort and dedication that not only their owners, but their staff as well – put into the establishment truly is exemplified in their dishes, their atmosphere and their quality of service. I would highly recommend stopping by and tasting Vida Cantina for yourself this Cinco De Mayo (or any other day of the year). When you do stop in, don't forget to try one of their margaritas with a choice of over forty different tequilas!
You can find them at:
Vida Cantina
www.vidacantinanh.com
2456 Lafayette Road
Portsmouth, NH 03801
(603) 501-0648