Grief, Its Impact on Those Left Behind and The Moments That Count Most
https://jasonstadtlander.com/wp-content/uploads/2022/06/grandpa-disolved.jpg
1707
1280
Jason Stadtlander
https://secure.gravatar.com/avatar/005a188b0f881a33cb85960dca72b8e2?s=96&d=mm&r=g
Grief is defined as:
Deep and poignant distress caused by or as if by bereavement
(ref. Webster's Dictionary)
What is grief really?
I lost my grandfather this March. He was a man that was my moor in the turbulent sea of life, and most importantly, my best friend.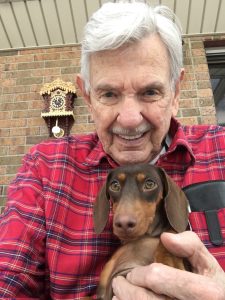 Virgil McConnaughey lived to be 92 years young and went on to have three children, ten grandchildren, and many great-grandchildren. He served in the Army in Tokyo and traveled the world with his wife Doris. He worked for Ford as a Tool and Die maker, retiring and having a chance to spend more time retired than he worked.
These are the facts of his life, but are we just merely the facts of what we accomplished in the end? No, I  don't believe so. There is a depth to our existence that cannot be defined in words. If someone asked me who Virgil was, those facts listed above would not be the first thing that came to mind.
To me, Virgil was a friend. A man who was not afraid to tell me his true feelings and perspectives on things, even when he knew I might not have the same view. He owned his strengths and his flaws (good or bad). He was not afraid to take on challenges that were far beyond most people in his position or point in life. He had a way of looking at anything mechanical or electrical and could tell how it went together, even if he did not see it disassembled in the first place – this I get from him. He could visualize things in 3D and look around them without doing so. Virgil had a love of all things nature, birds, and dogs especially. He would sit in his solarium (a room enclosed by glass) for hours, photographing, studying, and detailing the life in his small window of the world. He had his prejudices, most likely because of his age, but I loved him regardless. He taught me that one of the wisest things you can say is "I don't know." and that truth is more important than acting like you know what you're talking about.
Virgil loved with all his heart those that he felt would reciprocate it, but kept those who might hurt him at arm's length. Family was his gold and his fortune. Even those in the family that did not maintain communication with, he still loved them, he just felt at a loss on how to reach them and confused about why they wouldn't talk to him. He could be the warmest man you have ever met, and the coldest person if you crossed him. He loved new technology and enjoyed meeting new people and the small moments in life that make life worth living. He was rigid in most of his views and unwavering in his perspectives but still managed to be flexible when it came to learning or understanding the world around him. My guess is, that this rigidness is what drove him away from some people.
But, I have learned in my own life that not judging others and accepting people despite their flaws, allows you to truly get to know them better. It also allows you to accept the good things in people – and there are always good things in people.
The thing that I learned most from my grandfather was "the moment". The present – right now, this very second. You can't go back and replay it. You can change some things in life but once you've passed this moment, it remains in the past. My grandfather is gone, forever. However, the thousands of singular moments that time paused for us and I learned something, heard something, or simply gave him a hug… made it all easier for the "past" that it is.
Grief is more than just the words that define it. It is a hole in our souls. The emptiness of what is missing. For me, it is those "present" moments that are missing. I cannot pick up the phone and call him anymore. I cannot text him and tell him I love him. But it really is okay. It was his desire that I (and everyone) treasure those individual moments that he had with all of us. One day, we all will reach a point where we do not have any more moments left in our lives. Hopefully, between now and then – We can provide everyone we care about with those moments. Because "grief" is not nearly as intolerable as leaving behind a life that is not grieved.